About TMI
Our Philosophy
Slogan
Leveraging technology management for innovation to produce social value
Mission
In a decisive departure from the conventional approach to technology management that adopts a narrow focus on the application of technologies for business purposes, the Department of Technology Management for Innovation (TMI) produces social value to help address global challenges by taking a fresh look at society as a whole from a broad ranging perspective to identify desirable ways of applying technologies and enhancing such value.
Scope and roles
Technology management has already been a subject of study in professional education programs offered by some universities under the name of Management of Technology (MOT). Meanwhile, numerous universities and other educational institutions teach corporate management through their MBA programs. TMI, however, intends to adopt a much broader range of perspectives, including national and socio-economic ones, as presented in the figure below. Usually, MOT programs discuss technologies in terms of their value to companies, regardless of whether they are related to research development, production processes, product development strategies, or the like. In contrast, TMI is mindful of the value that technologies can offer a nation or society. Consequently, TMI pursues education from a diverse range of perspectives that extend across the fields of technology, economy, management, and society. It advances interdisciplinary research with an eye to resolving the problems faced in today's globalizing world.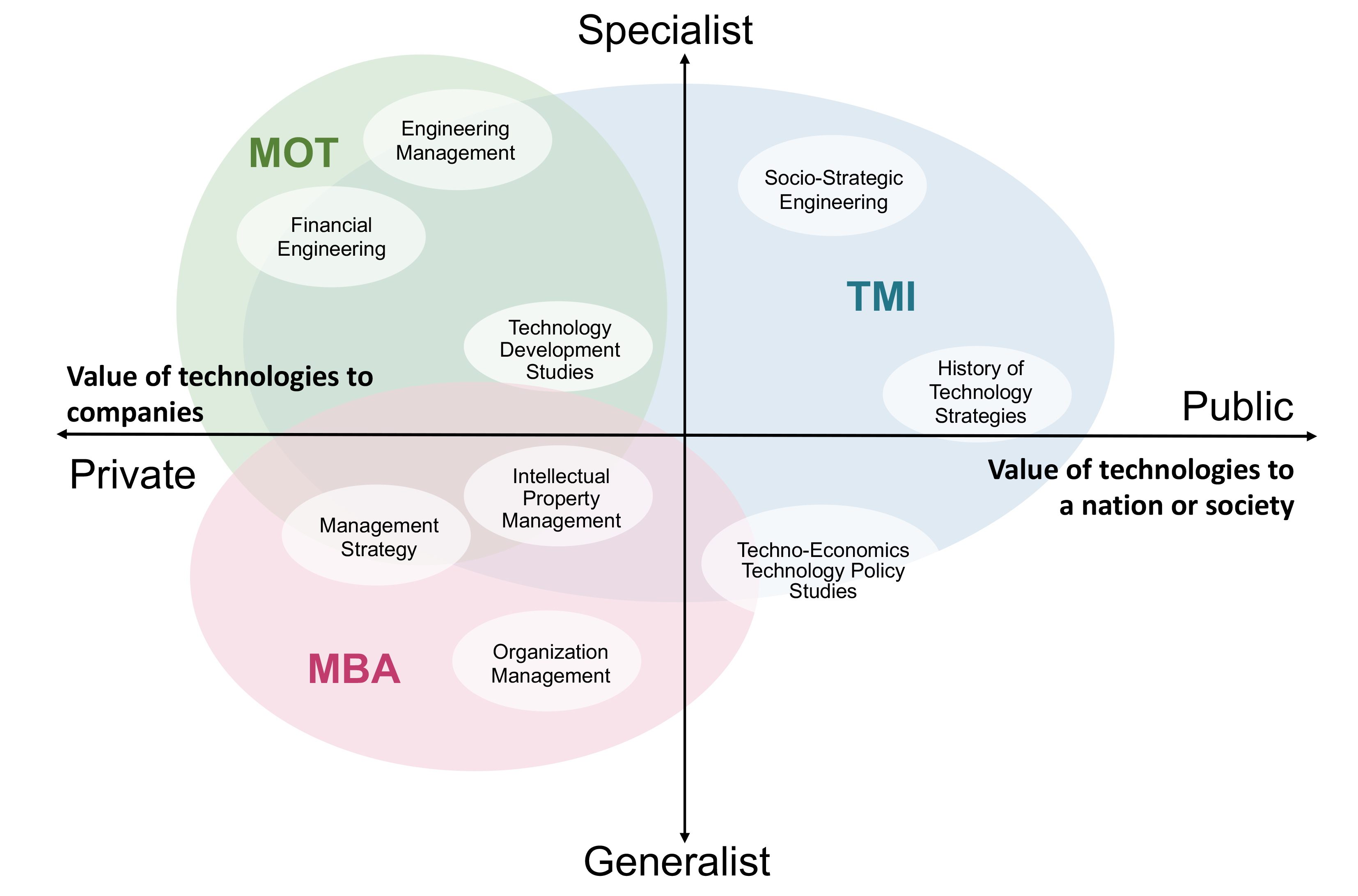 TMI emerged in response to the prevailing needs of this globalizing world. The pace of innovation must increase to remain in step with rapid technological advancements as well as the increasingly complex economic and social activities that are taking place across national borders. A diverse range of perspectives are vital to achieving this. Innovation obviously holds the key to securing development in a globalized economic environment, but the increasingly extensive overlap between economic activities and society today gives rise to a need for global challenges to be resolved while ensuring the sustainability of these economic activities. Furthermore, innovation has proven to have many different aspects to it. A new technology can potentially produce new value and transform society, but such a technology needs to be evaluated from a socio-technical perspective as well, rather than from a purely scientific or technical perspective. Technologies are expected to address ever more challenges on a global scale, as epitomized by the Sustainable Development Goals. This is why the way that technologies interact with the socio-economic system must be considered as an environmental factor.
Given the world that we live in today, it is clearly no longer enough to consider technologies in isolation by focusing on a single industry, nation, or area of expertise. This is the precise moment when TMI shows its worth by providing an effective means of translating engineering expertise into much needed value.
Educational goals
The TMI curriculum is designed in line with the principles of the School of Engineering, which include enabling students to acquire expertise and effectively mobilize their own capabilities to play meaningful roles in society (Article 1-2 of the School Regulations). TMI's educational goals are as follows.
1. Produce future leaders in technology management for innovation who can proactively mobilize their exceptional technical expertise and strategizing skills to enhance value for all of society based on their extensive comprehension of economic and management mechanisms.
2. Systematize technology management for innovation and train junior researchers to undertake tasks.
3. Initiate interdisciplinary initiatives across the liberal arts and sciences to address the global challenges faced by today's economy and society.
Unique educational opportunities offered by TMI
To achieve its educational goals, TMI places a marked emphasis on the following points.
The curriculum emphasizes project practicums to go beyond the types of studies conducted within established disciplines. Instead of utilizing superficial techniques, TMI makes a conscious effort to provide students with the foundation that they require, including reasoning skills, insights, and planning ability.
Industry partners offer more practical learning opportunities, as demonstrated by the Global Business Strategy and Policy lecture course.
Intra-university partnerships with the likes of the Graduate School of Public Policy and the Institute for Future Research makes it possible for TMI to combine the specialized studies of technologies offered by the School of Engineering with interdisciplinary studies that cross the boundaries of the liberal arts and sciences to examine topics related to economics, business administration, public policy, and other such fields.
Mutual inspiration among students from diverse backgrounds offers an environment that is conducive to mastering leadership skills and developing an inner drive for innovation.
Overseas training courses offer students an opportunity to gain an international perspective through firsthand visits and study tours that allow them to witness cutting-edge innovations at places like Silicon Valley.
The International Technology Management Program provides a supportive and cosmopolitan learning environment for international students. Almost half of the courses are taught in English.
Many groupwork assignments and special lectures given by business professionals help students build up the essential professional skills that they require to be able to plan or draw up business strategies effectively or handle them on site.